Using an Inflatable Bouncer House Safely
Posted On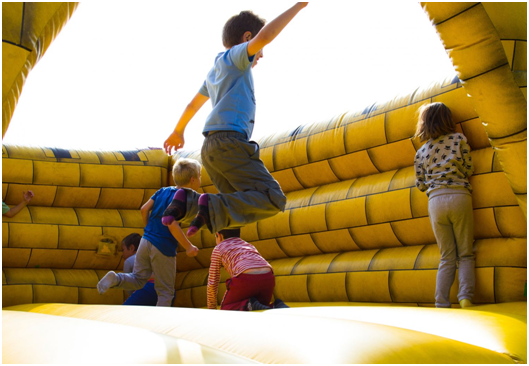 A bouncerhouse is a large plastic structure that is filled with cold air, including the floor.  This is what makes the children able to bounce and jump around safely.  Most are for children but some that will accommodate adults.  Whether you have rented one for a birthday party or using one at a fair or carnival you want to make sure that you are doing it safely to prevent injuries.  Some of these also have an inflatable bouncer slide attached.
How to help ensure safety
The children using the bouncer house should be six years or older as those younger may not have strength, balance, or coordination to enjoy one safely.
Always have an adult present to supervise
Technically, there should be only one child at a time in the bouncer house but most time this is not feasible so make sure that all children in there are about the same size and age.
Set the rules to ensure safe play such as not to do flips, not roughhouse, wrestle, or tumble around and to stay in the middle of the enclosure, away from the walls, sides, and entrance way.
If it becomes too windy or it starts to lose air, make sure that all the children get out. If the wind become 13 mph or higher it is not advisable to be in one of them.  Wind can raise small braches, dirt, and other stuff, causing damage to the bouncer house, gets in the eyes of the children, or scratches them.  Even if it is anchored down properly it could style pull loose and become airborne, depending on how strong the wind is.
If you are setting up a bouncer house for a party make sure that you read all the instructions and follow them
If you rent a discount bouncers house make sure that the company you are renting from is insured.
Make sure that when it is set up that it is done on an even flat surface and free of anything sticking up from the ground and rocks.
Do not have one put near fences, tree branches, or power lines. There should be open space all around
Make sure that it is anchored correctly
Most bouncer houses are set up outdoors but if you have a small one and want to set it up inside make sure that it is away from all walls and that it is set up on a hard floor.  If you follow these safety suggestions then your child is sure to have a great time in the bouncer house.  Always supervise your child and watch to make sure that any other children are playing nice.